Overview
What is it?
Compsim Management Tools (CMT) is a software application that runs on a Microsoft Windows based PC. It provides users a process to facilitate the collection and validation of information in order to make rational and explainable decisions. CMT enables the structuring of unstructured information and bridges the gap between "shot-from-the-hip" decision-making and formal decision-analysis. CMT can be used to "package" knowledge and decision-making models in a manner that allows them to be reused the future.
CMT can be applied wherever knowledge capture, decision-making, and/or scenario planning is needed.
CMT is:
A mechanism for organizing knowledge according to categories (information is stored in a database)
A graphical front end for collecting and organizing information
A graphical mechanism for manipulating the ranking and weighting of information
A reporting service that automatically organizes data based on priority or order
A way to show and retain a person or organization's decision-making process where the components are saved in "templates"
A method of validating positions / options

This mechanism shows the thought process that one goes through to make the final decision or to participate in the overall work process, thereby documenting the arguments that support or object to the positions / options.

A mechanism for creating customized, reusable templates that can be shared to address specific problems or processes
You should use CMT…
For Decision-Making:

If decisions are made for subjective, rather then objective reasons
If decisions in your organization generally take too long
If decisions made were not explainable or justified
If knowledge developed during the decision-making process is not retained (and should be)
If decisions made with missing information are not highlighted

For Knowledge Capture:

Where there is value in allowing the knowledge components to be ranked and weighted
Where knowledge might be used in the creation of templates for use in decision making
Where there is value in archiving knowledge for later use

For Scenario Planning:

Where activities need to be scheduled based on priority
Where it is important to have a clear understanding of responsibilities and priorities
Where all parties can share in a consistent view
Why is it special?
CMT provides a way to facilitate decision-making a core competency
CMT is easy to use and does not require lengthy training
CMT can provide a personal knowledge-base of decision-making
Knowledge structures can easily be packaged for archival, distribution and sharing
Knowledge can be retained for reuse
Problem solving models can be captured for archival, reuse and enhancement
Decisions / Recommendations can exposed for management review / audit
New knowledge or understanding can easily be integrated into past models
How does it work?
The CMT process develops a decision tree. The process starts with a top level Issue or problem stated as a question. The statement of this top level Issue is a key part of the process. This textual definition needs to be "open-ended" to provide for a collection of information on the particular problem domain. Prompts are built into the system to assist in this phase. It is common to use terminology like:
What should be considered………….
How might one segment…………..
What options should be considered in order to……………
The user then responds to the Issue with Positions (or Options). Each of the Positions can be validated with Supporting or Objecting Arguments.
Positions or Arguments can spawn new Issues. All levels of the tree can be evaluated to show their importance. Reports are dynamically created based on the importance / priority of the information.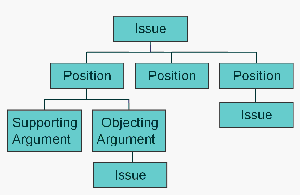 CMT provides a patented approach for graphically ranking and weighting information that is a key component to the decision-making process. The graphical approach equates well with subjective decision-making as judgment and reasoning are closer attuned to image processing functions than they are to number processing functions.
CMT supports group discussions related to the ranking and weighting of information. This is also helpful in management reviews. The users get immediate feedback during the review process, if there are any questions about the value or importance of information.
Reporting Techniques
Since knowledge trees can become complex, CMT provides a variety of reporting and information sharing techniques. Output reports can be sent directly to a printer or can be saved in RTF (Rich Text Format), for publishing or for further editing in a word processor, HTML (Hyper Text Markup Language), for publishing on the internet as web pages, or as XML (Extensible Markup Language), for customized reporting or for use in a corporate knowledge base. Sample XSL (XML Style Sheets) are provided for porting the information to Excel.
Selective views of the knowledge trees can be created for focused reports.
CMT provides explainable decisions in a report format with graphs that can be copied directly into Microsoft PowerPoint or other presentation tools.
If the user agrees with the computer generated decision, the report can be used as backup for the user's decision. If the user disagrees with the generated decision, then the user can review the information that the computer used to develop the decision. Since the computer is completely objective in how it treats the information, it may be appropriate to rationalize any disagreements. The decision-making reports explain the decision in high level terms. These reports can be backed up with the full knowledge-base reports to provide a complete audit trail.
Technology Discussion
The CMT information structure is based on IBIS ("Issue Based Information System") proposed by Werner Kunz (Heidelberg, Germany) and Horst Rittel (Professor of the Science and Design, University of California, Berkley), in 1970. IBIS is an information organization technique. The assumption was that if information was collected and organized, then better decisions could be made. IBIS was developed to address "wicked" problems. Wicked problems are those for which there is no "correct" answer. With wicked problems, one is looking for a "best" answer. These are compared to "tame" problems. "Tame" problems are those addressed by scientists and engineers through the use of formulas. With formulas, one is after a "correct" answer. It is difficult or impossible to create a formula to address wicked problems. "
IBIS has been refined and reproduced numerous times in the past years. Another version: gIBIS (graphical IBIS) was developed at the MCC Software Technology Program to analyze complex software planning problems.
IBIS has been used for years in strategic planning for the government, city planning, and within the university system.
The basic premise is that if you decompose an issue and then continue to decompose the decomposition then you will have the fullest understanding of the issue in order to make the best choices along the way.
IBIS focuses on gathering information in a "discussion" model where an issue (wicked problem) is broken down into clusters of discussions. Part of this documented discussion argues the pros and cons of alternatives.
CMT also incorporates the "Multi Attribute Value / Utility Theory" to make decision selections. This is also known as Multi Criteria Analysis and Multi Criteria Business Decisions. Within CMT, this is called Criteria Driven Decision Making.
CMT differentiates itself from other Multi Attribute decision-making tools by enhancing the user input aspects to the process. Most, if not all, other solutions focus on tables / grids of numeric input to provide data to a calculation engine.
CMT also incorporates its own patented method for integrating supporting and objecting arguments to address subjective decisions. Within CMT, this is called Option Driven Decision Making.
CMT also offers its patented graphical information weighting mechanism to allow subjective valuations to be supplied in an analog form. This matches well with the input of subjective information (which is also analog information).
Summary…
Compsim Management Tools can help organizations capture knowledge and/or make decisions that are auditable. Knowledge capture is now recognized as a key driver to the success of many companies. This is especially true for technology organizations where the domain knowledge of employees is critical to business success. When companies lose access to that knowledge, they lose significant funds they have invested to develop that knowledge capital. Compsim Management Tools is targeted at companies, organizations, and individuals that want decision making to be a core competency.
Potential Applications:
Compsim Management Tools can be applied wherever knowledge capture, decision-making, and/or scenario planning is needed. This would include processes such as:
Strategic Planning
Program Planning
Scenario Planning
Project Management
Technology Roadmapping
Outsourcing Decisions
Product Planning
Problem Analysis
Auditable Decisions
Customer Evaluations
Business Reviews
HR Reviews
Vendor Selections
Product Selections
Risk Analysis
Emergency Response Planning
Computer Supported Argument Mapping (CSAM)
Compsim LLC
PO Box 532
Brookfield, Wisconsin 53008
(262) 797-0418
Copyright © 2000-2005, Compsim LLC, All Rights Reserved